International Demonstrator - Ryan Neil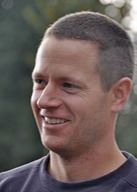 Ryan grew up in the Rocky Mountains of western Colorado, USA and was exposed to endless examples of nature's wrath and nature's beauty. With every hike he took into the mountains, Ryan's interest in plants and their resiliency grew, increasing his curiosity and unknowingly establishing a foundation for his future. When Ryan graduated high school he had already made up his mind to pursue bonsai professionally. He completed a horticulture qualification and then sought an apprenticeship under the great master, Mr. Masahiko Kimura.
Ryan's motivation for pursuing his Bonsai education in Japan was not only driven by desire to become adept at bonsai, but also to gain skills, knowledge, and answers to questions he had from studying horticulture and bonsai in the United States.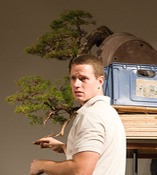 Ryan's six years of apprenticeship in Japan provided him a multitude of interesting and educational experiences.  If you attend his workshops and demonstrations you will hear many insights that are based on those years of study with Mr Kimura.  However, Ryan would say that his apprenticeship was not only the culmination of a dream but a catalyst and inspiration for his ever growing journey in the world of bonsai. Ryan is now putting into action the things he learned from his great master, and expanding on them through the establishment of International Bonsai Mirai, in Oregon USA, where he is now based.

Ryan is excited to be involved with the convention, and is looking forward to both understanding the development of bonsai in Australia and sharing his observations on the development of bonsai in the US.    
I am really excited to be able to contribute to this event and look forward to exploring the concept of meshing east and west: what from the Japanese model can be applied to bonsai in the western world to aid us in our pursuit of bonsai excellence.  There are things I acquired in Japan that I carry with me in every step of my bonsai pursuit, however my style is now different than my style in Japan based on the American culture which surrounds me and the American trees I now work on every day. How does this meshing occur, what does it mean, what do we need to understand in order to do it properly?
Interstate Demonstrator - Averil Stanley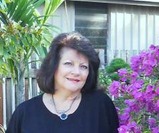 Averil has been involved in the art of bonsai since 1969, a time when exposure to bonsai resources, tools, plant material and guidance was extremely limited.  Her enthusiasm led her to join a local bonsai club giving her exposure to renowned bonsai artists, Saburo Kato, Tom Yamamoto, John Naka, Kahn Komai, Yuji Yoshimura, Peter Adams, William Valavanis, Kevin Willson and many others, who have influenced her unique style which is based mainly on classical bonsai design. 
She honed her knowledge and skills through art and horticultural studies and qualifications in training and assessment, which complement her extensive bonsai demonstration and course commitments. She has taught bonsai for QLD TAFE, and developed a competency based bonsai course by correspondence.
Averil currently has a busy workshop, course, demonstration and judging schedule, both locally and nationally, and is a tutor on the AABC Register of National Demonstrators.
Following her demonstration at the AABC Convention in Brisbane 1984, Yuji Yoshimura publicly acclaimed the high quality of her work and offered her the opportunity, with his professional support and patronage, to tour the extensive American Bonsai Lecture/Demonstration circuit. 
In 1986 she hosted a solo exhibition of her private bonsai collection of over 200 quality bonsai specimens at Mt Coot-tha Botanic Gardens.  
Her collection boasts mainly Japanese black pines, junipers,  azaleas, ficus species, bougainvillea, clerodendron, casuarina, swamp cypress, celtis, trident maples and elms of all sizes and styles, including carving and driftwood.    Her favoured styles are literati, semi cascade, broom and driftwood.
Averil is currently Secretary of Sunshine Coast Bonsai Society and a member of the Selection and Ambassadorial Committee of the National Bonsai and Penjing Collection of Australia.
Interstate Demonstrator - Andrew Ward

Andrew is particularly adept at saikei and rock/mallee settings - although is able to work on other styles and areas of bonsai.  He has visited a number of Australian Bonsai Clubs under the sponsorship of the AABC Visiting Tutor Programme over the past few years where he has been able to share his enthusiasm, knowledge and experiences with others. His favourite plants are the various ficus, plus ash, elms, and junipers.
Andrew has travelled widely, including China in 2006 where he was able to experience Penjing first hand. He has travelled to bonsai nurseries, exhibits and private collections throughout Australia. He has attended national conventions and been influenced by other bonsai artists including Hirotoshi Saito (Japan), Michael Persiano (USA), Bill Valavanis (USA), Charles Ceronio (South Africa) Janet Sabey and other demonstrators through the AABC Visiting Tutor Programme.
Most importantly for Andrew, bonsai is the journey - it is a process that is achieved through time and study. It is more than the individual, it is more than the plant or the pot. To Andrew, it is the symbiotic combination of all these elements plus art, horticultural science and the philosophies of those who contribute to the ongoing evolution of the developing bonsai art that is paramount.
Local Demonstrator - Roger Hnatiuk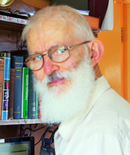 Roger has extensive experience in studying the forms of Australian woody plants and their natural environments. Discovering what Australian species look like and passing on those discoveries became a passion which Roger has shared through initiating the Australian Plants as Bonsai Study Group in 2001 and the national Australian Native Plants as Bonsai exhibition first held in 2003. The Australian Plants as Bonsai Study Group has now commenced a joint project with Ausbonsai.com to record and document what is known about growing Australian species as bonsai.
Roger has a strong interest in the role that art plays in the design and creation of bonsai and drawing on the natural environment, especially old trees, in shaping miniature trees that evoke a place, landscape or feelings experienced in a special or familiar place. This interest inspired Roger to create his own bonsai pots that reflect Australian landscapes and complement Australian plants.
Roger was the catalyst behind the establishment of the National Bonsai and Penjing Collection of Australia and is the inaugural Chair of its Bonsai Management Committee. He is also recording an oral history of bonsai in Australia.
Roger's passion, energy, artistry and commitment to the evolution of bonsai in Australia have inspired many in the Australian bonsai community.    
PDF's fo Roger's Presentations
Local Demonstrator  - Leigh Taafe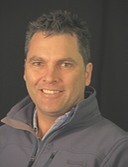 Leigh first became interested in bonsai over 20 years ago and fully embraced it as a hobby after visiting a bonsai nursery in Perth. He used hard earned pocket money to quickly build a collection of bonsai, which had to be sold when he moved back to Canberra, his home town. Leigh continued to pursue bonsai as a hobby while finishing a degree in Information Technology. 
After 10 years in the IT industry Leigh decided to turn his hobby into a business, initially by attending local markets, then opening a retail outlet, Ledanta Bonsai Nursery, inside a larger garden/nursery complex.
Leigh has run bonsai classes, conducted many workshops and demonstrations for local bonsai clubs, at Floriade and for the Australian Native Plants as Bonsai exhibition. Leigh is a regular contributor to the Canberra Bonsai Society newsletter's 'From the Workbench' section. Leigh has recently been appointed the curator of the  National Bonsai and Penjing Collection of Australia, following Grant Bowie retirement from the interin curator position.  He is comfortable working with all types of trees; restyling, carving and bending as well as training tiny shohin.